January 30, 2021
Posted by:

ryanbirdsell

Category:

GPS Trackers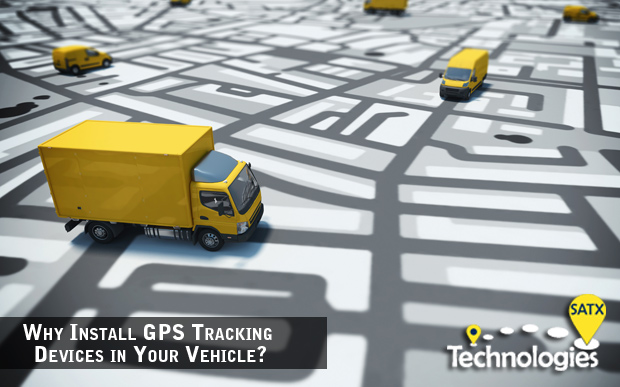 Are you concerned about your rental vehicle being stolen? Or perhaps, are you a parent worried about the safety of your new teen driver? A GPS device may be a smart investment for your peace of mind.
Continue reading to learn about the different types of GPS tracking devices for cars and how they can help in your situation.
Understanding the Basics of GPS Devices
There are two main types of GPS tracking devices for cars. The first type is "active" tracking. This is when the device sends real-time location updates to the user that installed it. This is a preferable type of tracking if you need information straight away.

Alternatively, you can choose to use "passive" tracking. This is where the device collects data, which you are able to view after the vehicle has been returned. This is usually through plugging the device directly into a laptop.
Key Features of GPS Devices for Cars
Through a range of satellite devices, you can gather information on location, speed, time, and duration of trips.
GPS trackers come in a case. If you intend to place the tracker on the outside of the car, it is important to ensure this is durable. More subtle cases can are also better for discreet tracking.
Some trackers have geofencing capabilities, which allows you to be updated when a vehicle leaves a specified area on the map. You can also enable proximity alerts to get a notification when your vehicle is approaching or leaving a specific area.
Typically, there is a range of pricing when it comes to GPS trackers. You can buy basic, budget GPS trackers for $100 and under which are typically used for personal use. Midrange options are $50-$100 and have more capabilities, though often are not discreet.
Options that are $100 and above are generally used by businesses. These have better features such as location proximity and fleet management.
Other considerations may include battery life and the ease of control or access.
How often does it have to be recharged?
Does it have an app you can download to monitor?
Car Tracking for Vehicle Rental Locations
If you are a vehicle rental location, it may be very valuable to consider adding GPS tracking devices for your cars.
Mainly, car tracking for vehicles can help eliminate theft (in terms of deterrence, or in practice). This is because you have the vehicle's real-time or last known whereabouts. This can then be provided to the police if you are in a situation where the car has been reported stolen.

More advanced systems can also provide maintenance updates. This may include tire checks or an oil change, which can be valuable information. This way you can ensure the cars you hire out are of good quality.
Van Tracking for Service or Delivery Businesses
Delivery businesses can employ GPS tracking for various reasons.
Firstly, they can track and ensure delivery times are accurate. This enables greater transparency for customers. This confidence and transparency may also make you a better competitor in the market.
GPS tracking can also be used to monitor the behavior of drivers such as rapid acceleration and speeding. Through this, you can ensure all vehicles in your care are being driven safely and efficiently. It can also help with monitoring work hours accurately.
Further, it can help companies create more efficient routing, which will save time by helping you avoid traffic or respond to on-demand requests. This again may prove to be a market advantage.
GPS tracking also ensures drivers can be most efficient and focused as they no longer have to use phone calls to check-in. Therefore, these devices can close the communication gap between drivers and companies.
Car Tracking & GPS Devices for Dealerships
Whilst demo vehicles are integral to boosting sales, there are occasions where it can go wrong.
Logistically, clients can get speeding tickets or parking fines. By enabling GPS tracking for your dealership, you can hold them accountable with digital records.
Through detailed trip data, you can see how long clients spend on the road and their driving habits. Through both deterrence and records in practice. This will help ensure that your vehicles remain in good condition, and give you peace of mind.
Tracking for Elderly or Children Tracking for Teen Drivers
If you have an elderly person or a new teen driver, you may want to invest in a small GPS tracking device for their safety.
As a parent, it can be worrying to know that your inexperienced teen driver is on the road. After all, auto accidents were responsible for approximately 2,500 teen deaths in the United States as of 2018.
If your child hasn't returned home when they were meant to, you can check they are safe and haven't been involved in a road accident. Truly this is the benefits of a GPS tracking device in action.
It is also useful to measure the safety habits of your teen driver. More advanced GPS systems can tell you if they were speeding, or even rapid acceleration. These technologies can help you prevent accidents before they happen.
Tracking for Safety
It may also be worthwhile looking into a mini GPS tracking device for personal safety.
You can set the tracker to provide updates to close family or friends. Therefore, in any scenario, they are able to ensure you are safe. It can also update emergency contacts if your vehicle needs maintenance. Or even just carry a small GPS tracker in your backpack or purse so your whereabouts are known to your family.

This might be especially valuable on road trips or during the night.
How SATX Technologies Can Help
At SATX Technologies, we create a various range of wearable or install-able GPS tracking devices. You can shop our bestselling car trackers or read our blog to learn about more uses for GPS tracking.