Thieves Nabbed in Less Than 48 Hours
High Dollar Construction Equipment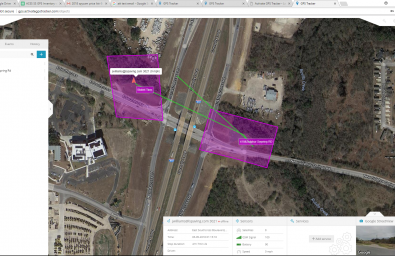 Large Paving Company in San Antonio uses our Magnetic GPS Tracker to catch thieves stealing thousands of dollars in equipment
The client visited one of our authorized dealers and explained that thousands of dollars of equipment had been recently stolen from their yard. After several failed attempts trying to catch the thieves, SATX delivered a solution that worked and paid for itself in less than 2 days!
The challenge was embedding the device into a part in the construction equipment that would not compromise signal quality.
Bait Equipment With Device

The teams focused was embedding the device into the parts that were frequently being stolen.

Set Up Alerts When Equipment Moved

Our technicians in the Command Center setup alerts for the owner to ensure he would be notified at anytime the devices moved.

Geofence Equipment In a Boundary:

The thieves moved the equipment to a nearby wooded area. They would return to the wooded area and pick up the equipment at a later time. Our Technicians setup Geofencing, ensuring if the thieves returned to move the devices, alerts would be sent. The owner worked closely with local detectives and once the equipment moved, he quickly contacted Law Enforcement for apprehension.
We embedded the devices into the equipment that was being stolen. Our technicians tested signal strength and remarkably the placement of the devices still gave off a strong signal for GSM and GPS. We baited the equipment so the thieves would easily target the items, once we had the devices setup and notifications were set, it was just a waiting game from there.

In addition to stopping theft, the company was also taught about how GPS trackers could reduce fuel costs, reroute trucks as needed, keep track of maintenance, and provide real time historical reports to ensure employees weren't committing fraud, waste or abuse.
To date – Client had 12,000 dollars in the last year in theft. Spending less than 3% of those losses on GPS Trackers he is protected and ready to stand guard against theft. The ROI was paid for in less than 48 hours.